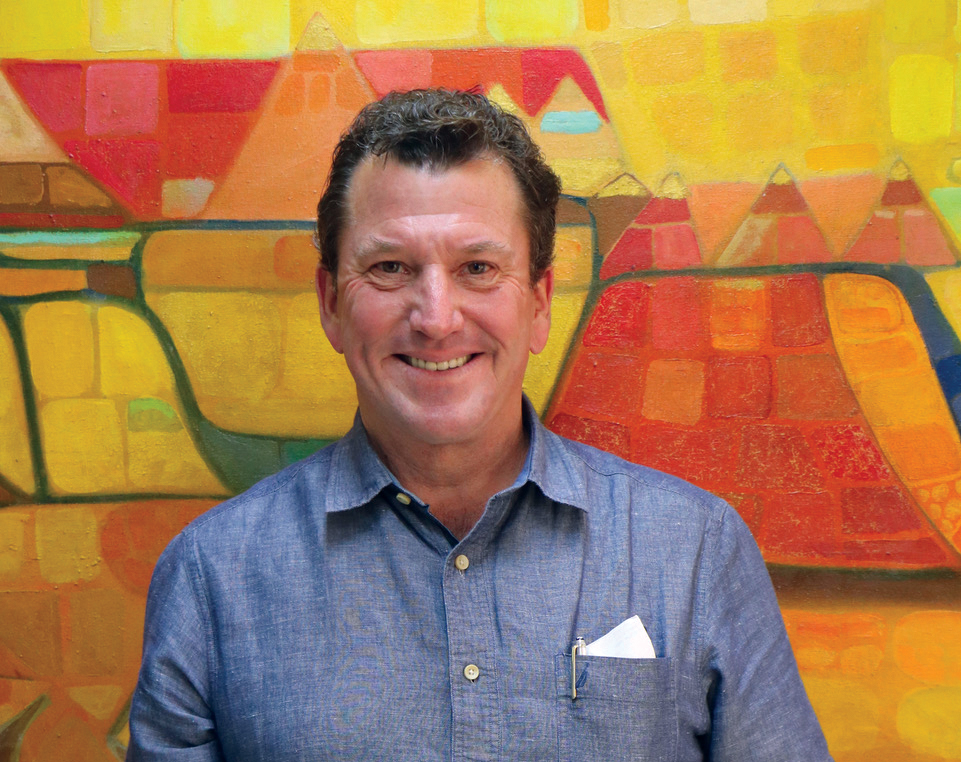 The story of Firgos Curacao and Firgos Bonaire is a story of continuous adaptation and expansion. A story of thinking ahead and innovating step by step. By doing so, the company that produces many products from copy paper to disposables and from cleaning products to biodegradable sunscreen has survived all circumstances under the leadership of Gommert-Jan Krijger. "I always want to continue to innovate, create, think," says Krijger.
Gommert-Jan Krijger (1963) is a trader, a man of 'tackling and adapting', he calls himself. The director of Firgos Curacao with branches on Bonaire, Aruba and in various South American countries, is a textbook example of starting at the bottom and learning the profession in practice. Although he once started to study Business Administration in the United States, he gave ample room to his deepest wishes two years later. "I was not the best student," he says by way of understatement. "I am extremely dyslexic, and I had an issue with studying books. I preferred the other university, the one of practice. I learned everything I know about trade by working hands-on."
Budweiser
For Krijger, that 'other university' started on Aruba with a company that, among other things, distributed Budweiser. "I didn't wear a dry shirt for a year," he tells with a pleasant Caribbean tongue, despite the fact that he was born to Dutch parents.
He went from the forklift truck to the stockroom, from stockroom to customs clearance, and from purchasing to selling beer and other beverages. Until somewhere in the mid-eighties his father called and asked him what he thought of trade. Krijger replied that he thought trade was fantastic and that he was a trader by heart. "Then I know enough", his father had said. In 1988, Krijger left for Curacao, the island on which he was born, to join his father. His father had worked for Firgos Amsterdam for quite some time. It was a company that had developed from a distributor of paper products to an import-export company of all kinds of disposables, office supplies, cleaning products and more. After Firgos Surinam, his father had moved to Firgos Curacao in 1962 and in 1987 he took it over. Gommert-Jan Krijger got a place in the sales department, the same function he had at his last job on Aruba.
Adversity
Nine years later he was the assistant to the general manager and in 1997, he was ready to become the director of Firgos Curacao. Firgos Bonaire joined the Firgos family in 1998. "Those were tough times," Krijger remembers about the first years of his leadership. "A quarter of the population of Curacao left for the Netherlands in the second half of the 1990s. The workforce decreased from 47 to 25 employees and the turnover also came under pressure." Krijger did not wait for better times and, in a time of adversity, was looking for expansion opportunities. "I wanted to go to Venezuela," he says about his plans at that time. "But a brother-in-law who lived there advised against it and suggested to go to Colombia." Krijger followed the advice and looked at about one hundred and fifty products in Colombia. "To this day, the companies in that country provides fantastic trade. At that time, I started working with ten of the best manufacturers over there and we are still working with them today."
"The secret is to jump on everything the market needs"
Paternal Approval
For Krijger, however, it wasn't enough yet. He felt vulnerable without his own product line and was looking for possibilities. Because "the whole world buys in China", he wanted to go to China to have his own brand developed and produced. The first discussions with his father failed. His father, who was still closely involved with the company wanted to wait, "and I had learned to respect the elderly and their opinions, so I did", the director explains. It wasn't until 2010 – when his father was already sick and staying in the Netherlands – that Krijger took the first steps. "In 2011 I went to a trade show in China. That was very difficult, because I don't speak nor read the language. "
Trying to communicate with hands and feet, he found ways to get different items produced. His father, meanwhile, stopped his chemotherapy because there was no improvement. On May 15, 2011 Krijger left China and went straight to the Netherlands. He immediately spoke with his father about his plans and his father gave his approval. Unfortunately, the former director of Firgos was not able to experience the success, because he died on the 3rd of June that year."
Disposables
In 2012, the first 'real' Firgos products entered the market under the name of Emerald. And now there are around five hundred articles. Krijger loves the process of developing and producing high-quality products from scratch, such as food containers, cutlery, plastic cups, binders, meat bowls, and much more. "Most of it are disposables made of plastic, but due to environmental issues, we started developing products made from sugar cane and corn oil. They can degrade much faster, and we really like to go completely green." The switch from wholesaler to producer has had a good effect on the company, as the turnover has more than doubled, since Krijger took over the top position from his father. That is mainly due to the fact that Krijger 'cannot sit and wait.' "If I do nothing, I will die. I always want to keep on innovating, creating, thinking about new possibilities."
Reflecting on his place in society and his role on the islands is part of that process. That is why he is also creating a line of sunscreen that is not harmful to the coral. "Our first thought was always with mere sunburn and its prevention. Now that the danger to the coral is evident, we cannot stay behind and have to adapt."
Carnival
Of course, this development is not only motivated by environmental considerations, but also by business motives. "On Bonaire and Curaçao, pretty much everything is imported. If the economy collapses, as it does now, we have to do everything to keep the company alive. It works well, but we must continue to innovate. Many import companies won't make it in the long run because they do not innovate in time." Krijger is not the man to live with doom scenarios. "I am a positive person. One has peaks and lesser moments in a business career. That is true everywhere. After all, we also had a crisis in the Netherlands. The difference is that in the Caribbean, everything is much more economically sensitive. For example, in January and February we had good results, but March is always a bad month business wise. That month, everybody spends a lot of money on Carnival accessories. Sometimes, I find this sensitivity of the Caribbean economy quite difficult." Nevertheless, Firgos is doing well under the direction of Krijger. With 55 employees and a stockroom space
of 3500 square meters that will soon be expanded to 5000 m2, the general manager has every reason to be positive about the future. "We continue to grow in revenue despite lesser years. My secret? Keep on innovating, keep on creating new products and jump on everything the market needs. That process never ends."