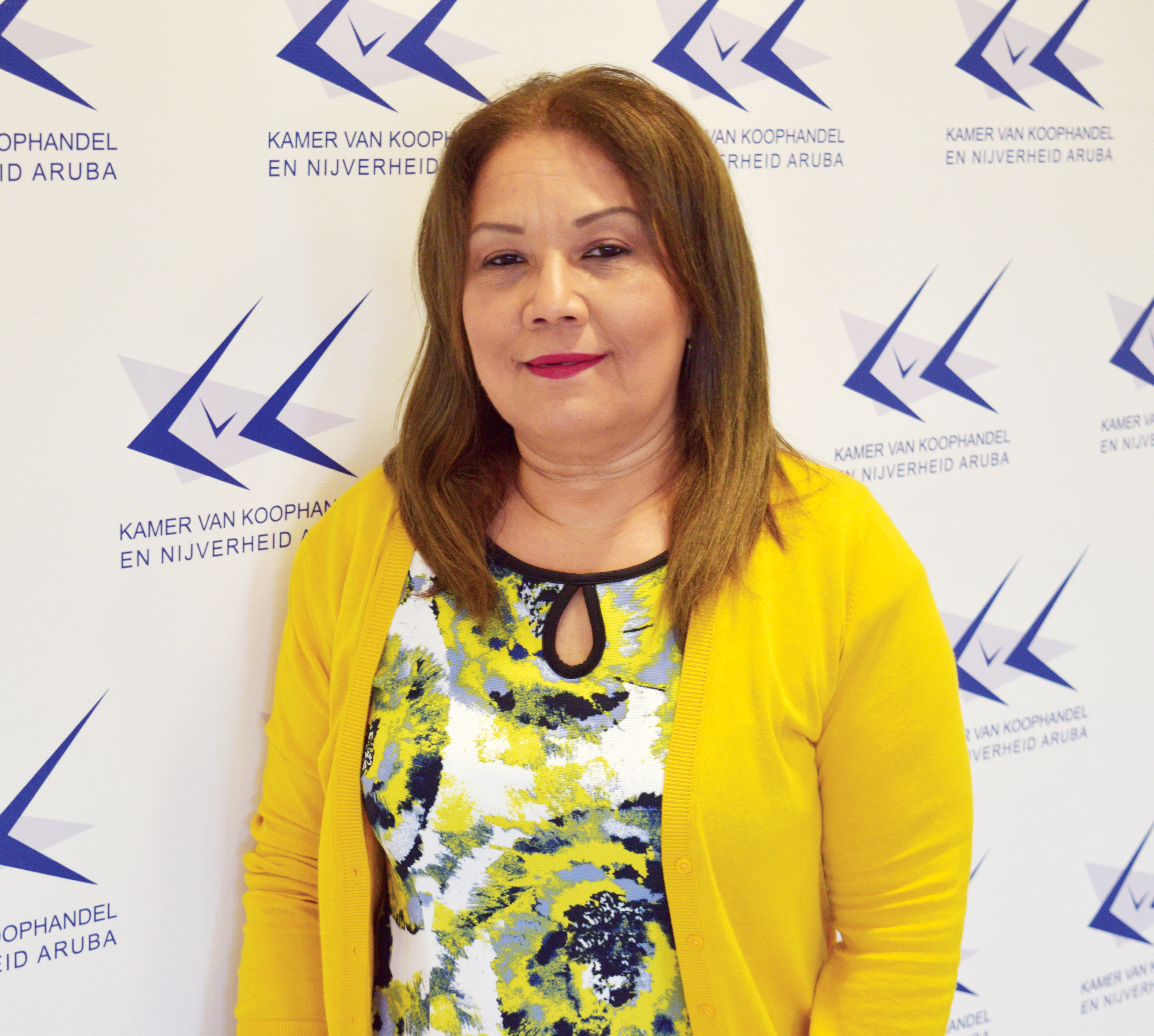 Mission
To guide, coach and train her team and to give them a joint understanding of the intention and direction of the organization.
To enforce their performance and to focus and strengthen a positive working environment.  
History
Jacqueline, called Wina since her childhood, was born in the lovely island Aruba. She is married to a musician and teacher and has two daughters.
She is the proud grandmother of two granddaughters and one grandson.
After her graduation she instantly started to work at the Chamber of Commerce in 1976 as a Trade Registry employee. Looking for a new challenge she started at Notary Tjon Ajong in 1990. Working at the notary, was a great experience and she gained a lot of knowledge about the establishment of limited liability companies. In February 1992, the former president of the Chamber contacted her and offered her a job at the Chamber as a supervisor of the department of Trade Registry. She took the offer and went back to the Chamber in 1992. In 2002 the Chamber moved to a new building and she became the Assistant Head Commerce/Foundation Registry. She reached the next level in 2017, when she became the Head Commerce/Foundation Registry. The Commerce/Foundation Department aims to manage the data of registered companies efficiently and effectively and tries to reach a common goal that benefits the organization and contributes to a successful customer service. Altogether, Wina is working for the Chamber for almost 26 years now. She tries to keep a good work-life balance in order to obtain both job satisfaction and quality time with her family. Besides that, she loves keeping a healthy lifestyle, travel and celebrate life whenever possible.
Her busy life routine sure is a challenge, but it is not impossible.
Future
As the Aruba Chamber keeps improving and innovating its services, she hopes to foster an environment of collaboration, which provides excellent support and achieves satisfaction for the customer. Furthermore, she constantly strives to be the best version of herself in her job, health, relationship, and with her family.
Name: Jacqueline Ludwina (Wina) Holmond-Montsanto
Company: Aruba Chamber of Commerce & Industry
Function: Head Commerce/Foundation Registry
Date of bith and place: 1958, Aruba
Personal: To get along with others and herself. To live a principle-centered life, committed to personal improvement and devoted to her family and to her role as a wife and mother. She wants to be remembered by her family, friends and colleagues as a person with a strong work ethic grounded in decency, simple goodness, infectious vitality and inspiring enthusiasm.
Professional: To improve her ability to manage her department. To plan, communicate, and collaborate virtually and to be a better partner, to understand her team members' goals and needs, to learn to work together and to reinforce the organizational core values together.
Passion:  Family, work, going to the movies, travelling
Books:  Inspirational and self-development books  
Movie:   Many favorite films, especially drama, comedy and action movies from artists like Kevin Hart, Tyler Perry and Denzel Washington 
Music: All kind of music, especially R&B, Soul, Gospel and Jazz