Social Media Expert & Business Woman, Bsc. Alexlindy "Lindy" Croes, has achieved her Bachelors in Business Management & Informations Systems, and is a financial specialist who has been practicing the Law of Attraction and manifestion for over 16 years. Lindy is also an active board member of Aruba Chamber of Commerce & Industry since 2018.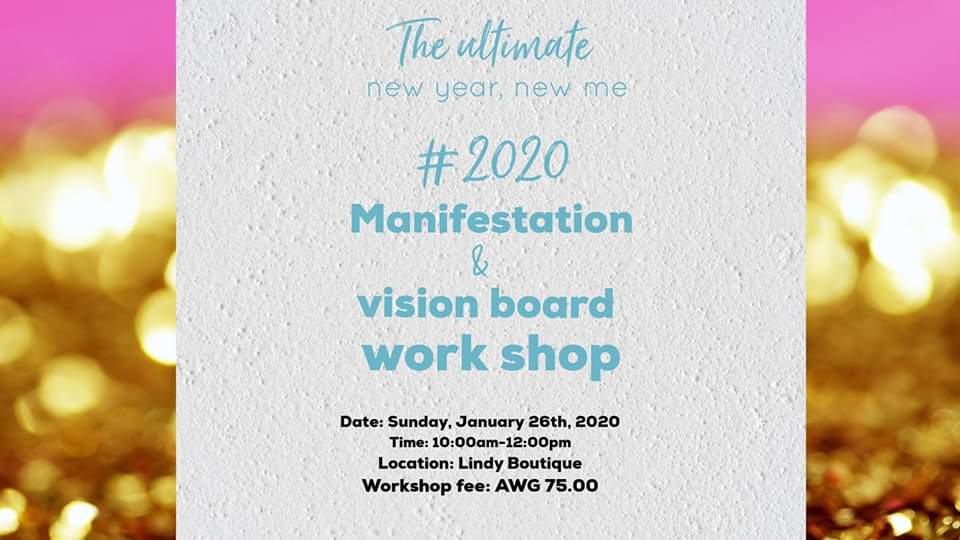 Who should attend?
The imagination of creating your vision board is absolutely endless and you can use or create a vision board for every area of your life that you wish, however, for our first vision board seminar we will be focusing on:
– Entreprenuership
– Starting your own small business
– Taking your business to the next level
– Excelling in your carreer/school
– Finance
– Health
– Family &
– Lifestyle
What should you bring?
Crafting supplies is ideal for a vision board for the final touches, but you do not have to spend a ton of money on supplies.
Please bring the following
– Scissors (there were be some siccors available, however it is more practical to have your own)
– 2 or 3 old magazines of your choice
– Specific photos on things you want to focus on ( it may be a picture of your family, some thing you want that you saw on pinterest or google images, etc.) these can be actual photos or just printed at home.
– an open mind.
What you will learn
– You will learn how to effectively put a vision board together
– Little but effective exercises to reset your mind for positivity
– The basics of quantum physics
– Two cup manifestation Method
– Basics of Dr Emoto Water Experience
Workshop Fee: AWG 75.00
Date: Sunday, January 26, 2020 at 10 AM – 12 PM.
Place: Lindy Boutique – LG Smith Boulevard 126, Oranjestad, Aruba.
Limited seats available.
For more information, please visit the official Facebook event.