The inspirational session is an event where you get inspired by real life stories from individuals that have overcome adversities, you will hear what others had to do to get the best out of life despite difficulties and challenges, so that you can face any challenges life presents to you
For this session you will hear from two courageous and inspiring men.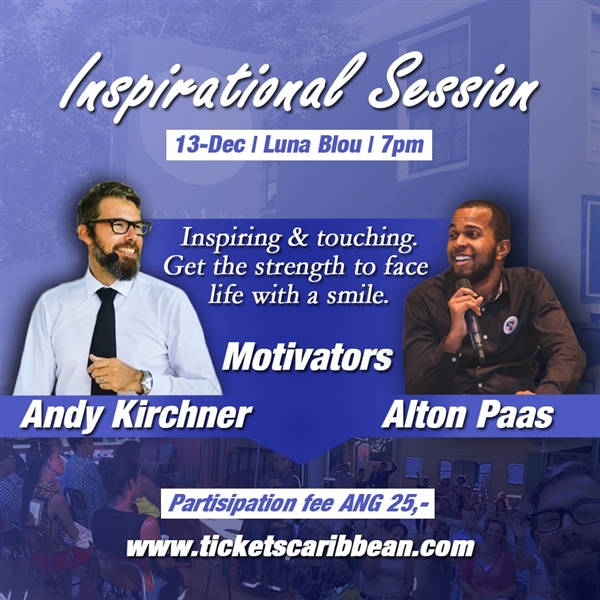 Alton Paas is known for a big smile and a big heart for helping other through his nonprofit carrying his name Fundashon Alton Paas. He founded his non profit foundation after a car accident, that left him paralyzed by the neck down. Against all odds Alton is an advocate for inclusion and an ambassador for people living with the adversities that come with a disability.
Andy Kirchner is known as The Recycled Pirate after a challenging period in his life left him paralyzed because of a Scuba dive accident. First he founded 2nd Life Curaçao to bring value to his life to then begin recycle lives of others.
What can you expect?
Life lessons & examples of perseverance.

Listen to experiences how to face fear and anxiety.

Hear life from a different perspective.

See how you can overcome the impossible.

Of course have a good time and get the memorable experience to launch you into the new your!
Date: December 13th 2019.
Location: Teatro Luna Blou- Zona Kultural. Curacao.
Get your tickets now at +59995100767 or book them online at www.ticketscaribbean.com. You can also check out the official Facebook event.