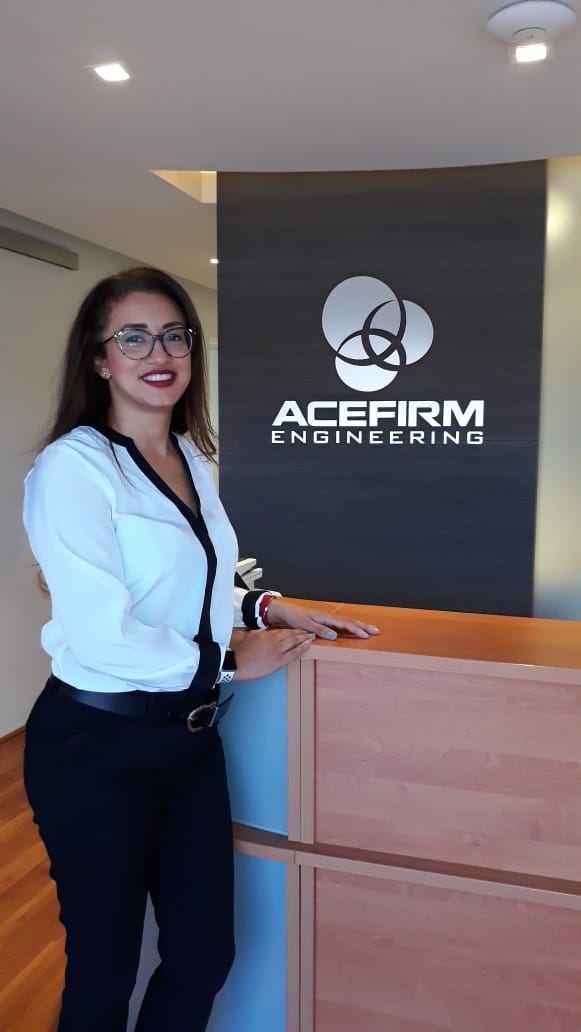 "Engineering serves mankind by making dreams come true", summarized that is what Rubiela Lampe, director and founder of Ace Firm Engineering loves about her job, her company and her profession. 
Even after 17 years as one of the few female engineers in the region, she hasn't lost her passion and helps her clients to shape their ideas and engineer their visions through her own successful engineering firm she set up seven years ago.
A Passion for Engineering
Rubiela started her engineering career in Aruba where she was offered a job at the Oil Refinery before she even had finished her studies in the Netherlands. With the industrial experience she gained in the course of the ten years she worked in a mostly male-dominated market and profession, she established Ace Firm Engineers consultancy agency in 2012. Her passion for engineering was actually ignited by her high school chemistry teacher. It was during her lessons that she experienced that amalgam of joy and excitement whenever she calculated, designed, and commissioned something that worked. Eager to keep on doing exactly that, but on a far bigger and industrial scale, she went to Holland to study Chemical Process Engineering and became an engineer or Master of Science as it is officially called nowadays. Just like her team of Ace Engineering specialists and technicians, who all have an industrial or technical background, she is a professional engineer who thinks according to the local global model.
The Firm
Besides engineering their clients' visions, 'working locally but moving globally' is also part of Ace's strategy. Literally it means that they are hopping islands all over the Caribbean from the Bahamas to Saint Martin, from Curacao and Bonaire to Saint Barth. Throughout the Caribbean Ace Engineering is executing risk assessment, technical audits and reviews like the different internationally recognized health and safety tests and standards such as NEN 1010 or the EarthCheck Certification, for example. Or the firm's specialists are ensuring progress by designing 3-D models of technical installations, conducting feasibility or environment impact assessment studies, or partially or completely managing a variety of engineering projects and processes. Thus, during its seven years, Ace Firm Engineering didn't only grow, but it also became far more than just a consultancy agency. The five specialized thriving branches, such as technical advisory, engineering, project management, design, and onsite technical support can basically do everything their corporate clients might desire.
Modernizing and Professionalizing
Engineering their client's vision also means using the newest technology and making sure clients comply with the latest local and international rules and legislation. This compliance with internationally recognized health, safety and environmental standards and procedures has become very important because insurance companies, for example, demand these certifications to ensure their applicants have the necessary qualifications and as proof of professionality before they insure valuable installations. 
The recently acquired high tech 3-D laser scan makes that and other work easier. Designs of installations can now be measured, calculations tested, and possible flaws discovered, which means that models can be improved at an early stage, saving time and money as a result. Another advantage of the innovative hard and soft ware is the possibility to integrate the design, building, and maintenance plan, which leads to even better and more efficient prototypes. 
To keep abreast of the most recent developments requires a very professional, highly qualified and flexible staff, which Ace can provide. The Aruban team of Ace Firm Engineering consists of twenty experienced, able local experts who are fluent in four languages (English, Spanish, Papiamento, and Dutch), know the region and its culture very well, and are only one hop away. In other words, there is really no need to fly in expertise from abroad. Moreover, Aruba might just as well seize the opportunity to export its local knowledge and experience and become the region's forerunner and leader, according to Ace's director Rubiela.
Role Model
As one of the few female engineers, director Rubiela has been a role model for quite some time now. According to her everybody, male or female engineers, is equal and she is and likes to be treated as such. "There is no big difference. The only thing that I have to do is to adjust the way I network because I have to fit into a male-dominated market. In the end being female or male doesn't really matter if the results are good and the clients are satisfied", Rubiela clarifies. 
Living up to being a role model, she gives motivational speeches at schools in order to stimulate and inspire local technological talent. By trying to encourage children and students to learn as much as they possibly can and prepare themselves, she offers them her key to success that basically comes down to the idea that "luck happens when preparation meets opportunity".