Date: October 14th and 15th 2019.
Location: Golfclub – Indira Ghandiweg – Paramaribo.
Course fee: US$ 495.
Includes a gift voucher for the OBTN conference on October 24th 8, 25th, 2019.
OBTN is organizing a 5 day Guyana – Suriname trade mission around the energy conference on October 21th & 25th, 2019.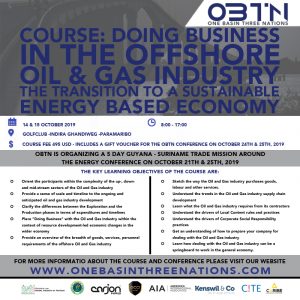 The key learning objectives of the course are:
Orient the participants within the complexity of the up-, down-and mid-stream sectors of the oil and gas industry.

Provide a sense of scale and timeline to the ongoing and anticipated oil and gas industry development.
More info at the OBTN official website.