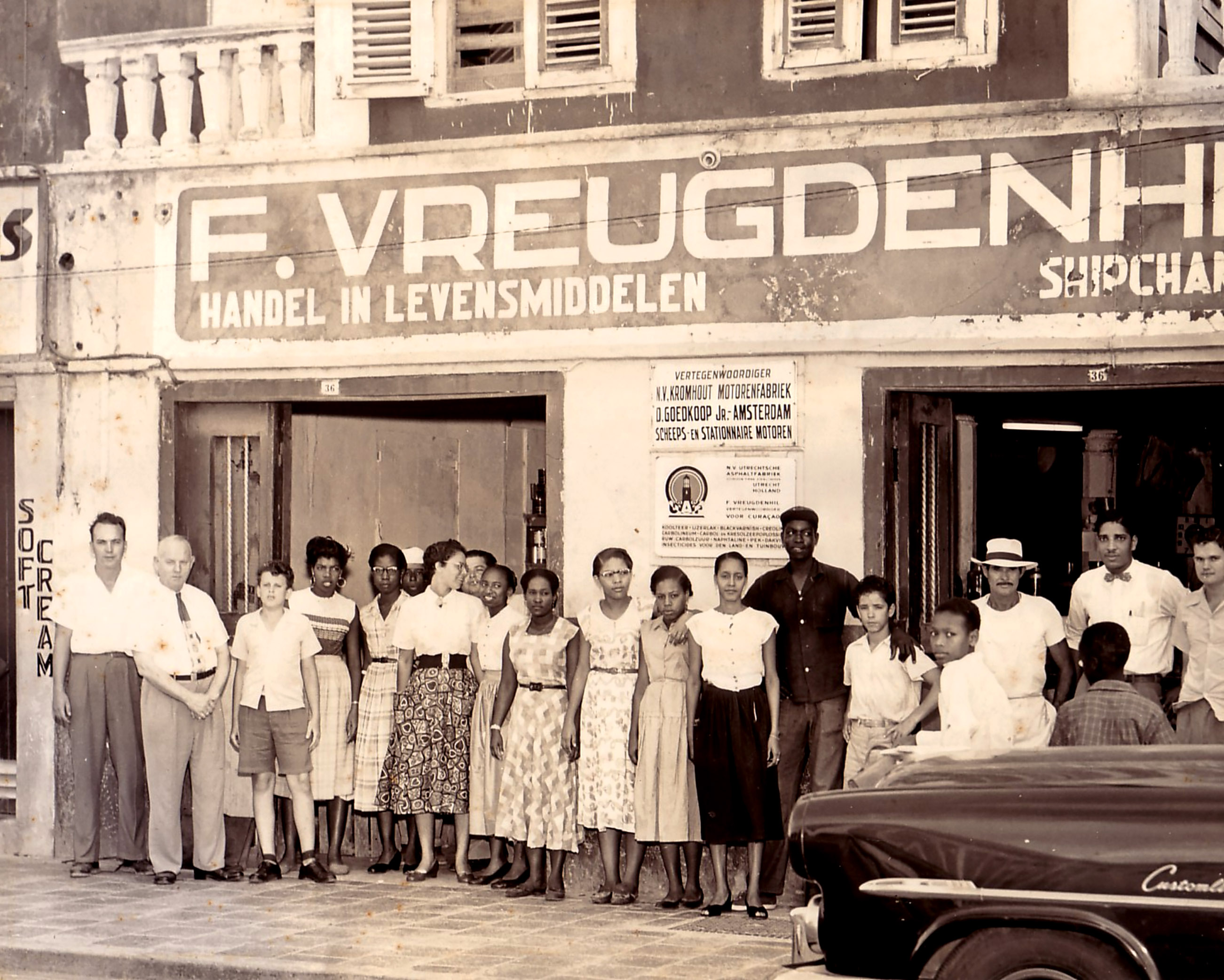 At the end of the twenties of the last century, Captain Frans Vreugdenhil arrived by boat in Curacao. He met his future wife and decided to stay. Initially, he remained faithful to his previous field of expertise and started trading in ship items
However, his ambitions were bigger, and in 1931 he opened his first supermarket in Punda, situated at The Ruyterkade. What was special about this supermarket was that it was the first one in Curacao to use the self-service concept. Until then people were accustomed to stand behind a counter and ask for all the groceries they needed. It didn't take long for his business to grow. During the fifties he expanded his number of stores by opening up supermarkets in Marie Pompoen, the Ansinghstraat, Colon, and a cash-and-carry in Dominguito. The shop in the Ansinghstraat didn't have a very long life though, it went down in the fire of 30 May 1969.
Vreugdenhil has always been a family business. When Frans' son Karel took over, he decided to continue with one supermarket. The cash-and-carry in Dominguito became his main focus
 and still is. Today, Vreugdenhil is a big full-service store with an in-house butchery, bakery and cafeteria offering a wide variety of articles to choose from. With a range of around 25.000 products there is more choice than in an average supermarket in the Netherlands. Partly because of the labor intensity of the traditional butchery and bakery, Vreugdenhil employs about 120 people. 
Currently, the third generation Vreugdenhil is in charge of the retail business. The granddaughter of Captain Frans and her cousin, Alan Evertsz rule the company now and form a two-person management team. Alan got into the supermarket business by chance. "I have a completely different background. I used to work as a reporter at a local radio station. The degree of competition between radio stations made it less fun and I was ready for something else. That was about twenty years ago, when the cash registers at the supermarket became automated and my family could use some help I jumped in, liked the work, and stayed. We have divided the tasks within the management team, my niece does HRM matters, I take care of the international purchase of products", tells Alan. 
The mission and vision statement of Vreugdenhil clearly show that the store has its own view on its product range. A conscious choice has been made for a fresh and healthy range of products which is affordable for customers as well. Supermarket Vreugdenhil distinguishes itself from other supermarkets in Curacao by its wide range of alternative, biological and organic products. Alan explains:
"As a product purchaser I follow international trends, I visit conventions and make sure that I am well informed about trends and developments not only internationally but also in Curacao. I have a network of opinion leaders, including the ones in the alternative health care branch, to provide me with adequate information and to ensure that I know the demands and needs of my clients." 
Although Vreugdenhil considers corporate social responsibility to be important, no major publicity is given to it. There is no set policy or budget, but behind the scenes something is surely done with it. Many local charities and social initiatives can count on a sum of money or support in the form of products from the store. "We have managed everything on our own, as a family, and will not easily go to a bank for a loan. Vreugdenhil stands firm, the only wish we have is to further expand the fresh products department. That is a challenge in Curacao because almost everything has to be imported. Especially with fresh products, fast handling is crucial and not up to date laws inevitably cause quite some delay at customs. 
But, no single supermarket, especially under local ownership, has hold its ground as long as we have," says Alan proudly.