Carel Rink's greatest wish is to become an independent artist. He already knew that when he was a child. He was always drawing, and arts was his favorite subject in secondary school. But he is very much aware of the fact that as an independent artist it's not easy to find a way to earn a living. As a young person in his twenties, he is already made some big steps.

He came up with the Goatchi and succeeded in starting up a well-running company in a short period of time.
When he was sixteen, Carel obtained his VSBO diploma on Curaçao. He wanted to continue art education, but in his parent's opinion he was too young to go to the Netherlands on his own. He did not feel like going to HAVO in Curaçao and decided to take a job. He started his working career as a waiter, but very soon found out this was not his piece of cake. The switch to start working at the Dolphin Academy as a photographer and videographer did turn out successful. After two years of experience Carel bought his own camera and started free-lancing with his father to record weddings, parties and events. In 2013 he decided to make the step to the Netherlands to continue his professional school career and ended up at the Rijn IJssel College in Arnhem, where he studied Art & Design. Without realizing it at that moment, the internship in his third year turned out to give him an important push in the right direction. He did this internship at Jacky Zeegers, a visual artist who makes colorful plaster sculptures of animal figures. She offered Carel the opportunity to design his own version. He really wanted a connection with Curacao. The herds of goats he repeatedly saw on his way home after a nice day at one of Curacaos beaches in Banda'bou, let the idea pop up to create a goat. The Goatchi, a cheerful and colorful cute little goat was born.
The last year of his studies Carel spend on Curacao, with a final internship as a graphic designer at One Media Design where he was offered a job after getting his diploma. After long hesitation he decided not to except the offer and go for his dream as an independent artist. The start-up came with ups and downs. It took a year before he, at the beginning of 2018, could register his one-man business at the Chamber of Commerce. 
"Owning a company is hard work, I don't have much time for friends, but it's absolutely worth it"
Up to now, Carel is doing the whole process of producing the Goatchi completely on his own: making the mold, casting, finishing and painting, but also selling the sculptures. That means that the production capacity is limited, he can produce about ten Goatchies a week. Nevertheless, his ambition to grow is there, so Carel has been looking for expansion opportunities. He found a solution by outsourcing the production process to a company in China. The advantage of this new production process is not only that the capacity can be increased, but also that the Goatchies are no longer made of vulnerable plaster but of unbreakable plastic. To place a large order of 500 Goatchi figures, an investment was necessary. He approached the bank for a loan but never received a concrete answer. Fortunately, Qredits did offer him the opportunity to get a loan. As he was already operational, it was not too difficult to submit a plan. Within a few weeks his request was awarded by Qredits. He already placed the order and the first cargo of rough goat figures is expected soon. Now Carel can focus entirely on the painting and sales part of the process. And it also creates room to develop other ideas. If it was up to Carel, he would like to release a new animal figure every six months.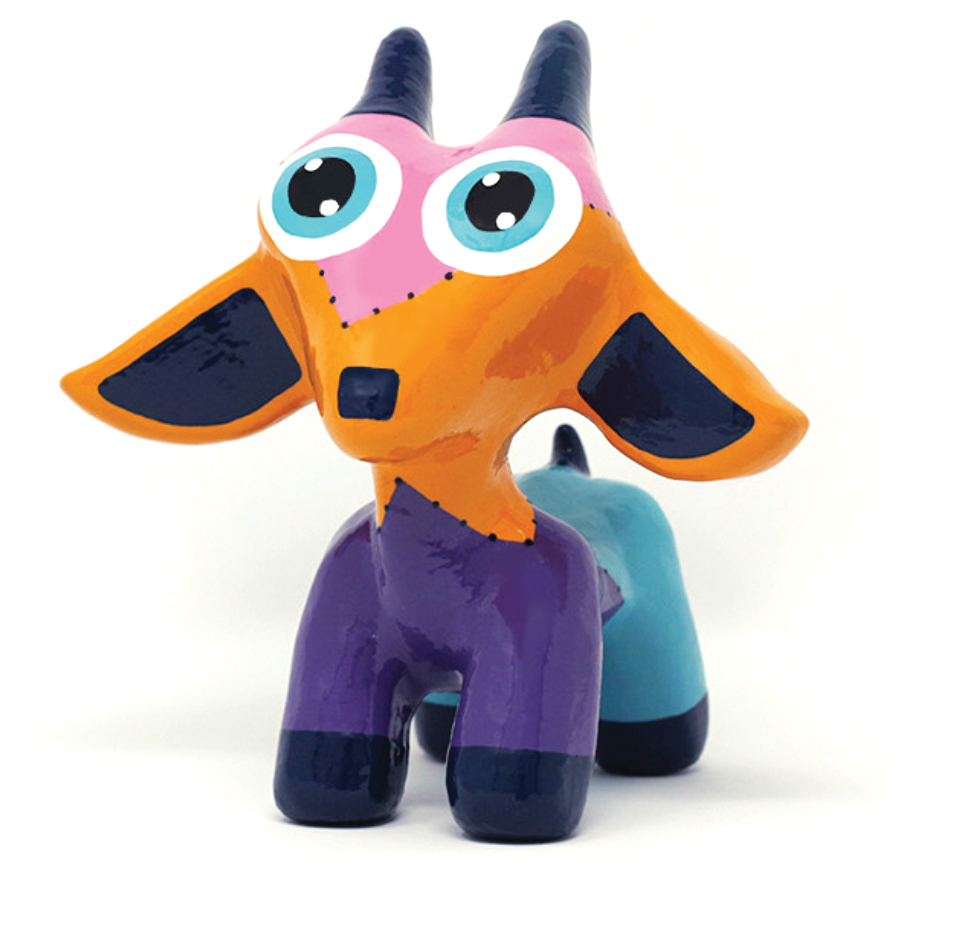 Animals and animal love are important returning themes in Carel's work. This is not only seen in the products, but also the way in which Carel wants to have impact on the Curaçao society. He participated in the fundraising of the Lions Club for the Ronald Mc Donald House. Together with prominent people from Curaçao, including Prime Minister Rhuggenaath, he made three unique Goatchies, which were sold at the auction and generated more than 10,000 guilders. In addition, donates 10% per sold item to an annually chosen charity. Last year it was the Animal Shelter, this year the Dog Sanctuary of the Kluivert Foundation can count on its support.Although he reached far already, the dream is not yet finished. It is Carel's ambition to open his own store with studio space in Punda within two years. If it is up to him, he will be mainly engaged in large unique customized assignments while having his own team available to produce the Goatchis and other animal figures. The first steps into this direction have been taken.
The company is accredited to accept interns and his former school in the Netherlands is prepared send trainees. "Owning a company is hard work, I don't have much time for friends, but it's absolutely worth it. The loan from Qredits was perfect for a necessary quick investment. That investment really helps me to grow and start saving money to open my own store and studio space", says Carel Rink.